Bad Grandpa: When Jackass was nominated for an Oscar…
The make-up and hair team of Jackass Presents: Bad Grandpa have been nominated for an Oscar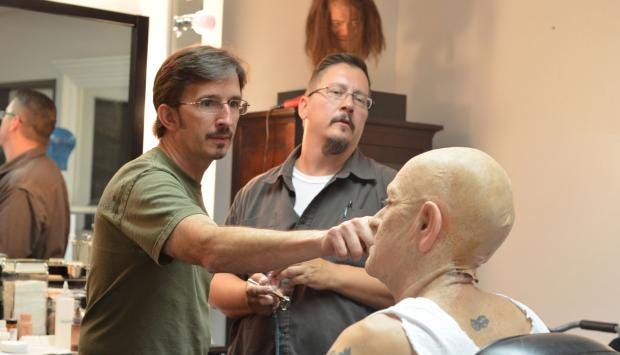 "The producer overheard a 10-year-old kid saying, 'Dad, that's Johnny Knoxville.' His dad didn't believe him. It turned out the dad was a doctor!" 
In Bad Grandpa, the latest movie from the Jackass stable, an 86-year-old named Irving Zisman takes a kooky, cross-country road trip with his young grandson. Along the way, the pair shock, unnerve and offend a succession of unsuspecting bystanders, before making a subversive appearance at a child beauty pageant. So far, so Little Miss Sunshine.
Yet what sets the former film apart from its  influences is that the witnesses to its wacky set-pieces are not actors but real people, and Zisman is played not by a real eightysomething, but by Johnny Knoxville, who is 42. That his  elderly disguise was so convincing explains why Jackass Presents: Bad Grandpa is this year's most unlikely Oscar nominee, in the Make-up and Hairstyling category.
Tony Gardner, one of the make-up special- effects specialists behind Zisman, says, "If  the make-up doesn't work, the movie doesn't work. Most of the time comedies aren't recognised [by the Academy Awards]. But the platform that this film's make-up stands on is the fact that the character worked in the real world, in real light, in front of real people."
The named nominee is Steve Prouty, who worked with Gardner's firm Alterian to create Zisman's face, and then applied it to Knoxville's head in daily two-hour, 45-minute make-up  sessions. "What an honour," said Knoxville of the nomination.  "Am I as stunned as everyone else we didn't get the nod for Best Picture? Well, of course, duh. But I won't let that take away from my happiness for Steve, Tony Gardner and our whole make-up team. Wahoo!"
Alterian's HQ is a warehouse on a non-descript industrial estate in the unremarkable LA suburb of Irwindale. But hidden behind its beige facade is a workshop filled with weird creations coming to life, and an office decorated with previous  on-screen triumphs: a dog in a full-body plaster cast from There's Something About Mary; John Travolta's female fat-suit from Hairspray; the  titular robot from the sci-fi dramedy Robot & Frank. One memento sadly missing is a 14-foot replica of David Hasselhoff that the firm made for The SpongeBob SquarePants Movie – now being used as the base of a glass-top table at the Hoff's home.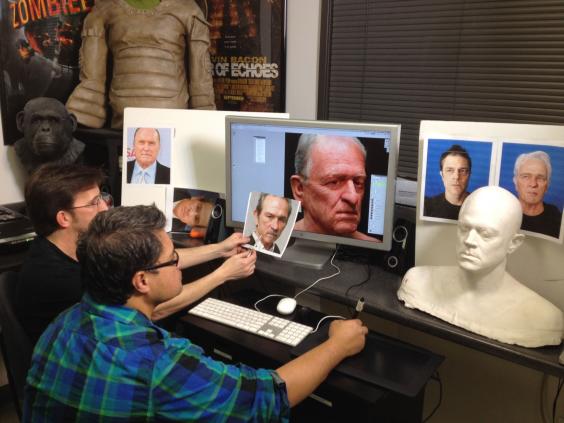 Turning heads: Tony Gardner and Lilo Tauvao work on ideas for 'Bad Grandpa' (Bryan Christensen)
Irving Zisman's features were based in large part on Gardner's grandfather, Fred. The face was made from silicone, paper-thin and translucent. The ears and the back of the head were latex. Then there was the wig, the eyebrows, the moustache, the dental veneers, and the liver-spotted backs of his hands. The team also made a  wrinkled torso for Knoxville to wear in scenes where he removed his shirt, as well as some other anatomical items that it would be inappropriate to describe in the pages of a family newspaper. Each make-up element had to be mass-produced so that Knoxville could be disguised anew for every day of the 60-day shoot.
Remarkably, his cover was rarely blown. "There was a scene when he went to a Jacuzzi and dropped a colostomy bag in the water," Gardner explains. "The producer overheard a 10-year-old kid turning to his dad and saying, 'Dad, that's Johnny Knoxville.' His dad didn't believe him –  he said: 'Look at all the wrinkles on his stomach. It's a real guy.' It turned out the dad was a doctor!"
Gardner, who is 50, grew up in Ohio but moved to California in the 1980s to study film at USC. Ostensibly as part of his studies, he engineered a meeting with legendary special-effects man Rick Baker, who offered him a four-week job as a  production runner. "Four weeks turned into four years," Gardner says. He subsequently worked with Baker on projects as varied as the music video for Michael Jackson's Thriller and Gorillas in the Mist, and established his own company while working on the cult horror The Return of the Living Dead in 1985.
One of the key members of the Jackass gang is writer-director Spike Jonze, whom Gardner met while working on David O Russell's Gulf War movie Three Kings, in 1999. "Spike was one of the people I was doing make-up on," Gardner recalls. "He kept saying, 'I've got to get back and edit my movie.' I was like, 'Oh God, this is one of those actors who wants to be a director.' But we really hit it off, and it turned out later that he was in the middle of editing Being John Malkovich."
Gardner worked on Jonze's second film, Adaptation, and then Jonze introduced him to Guy-Manuel de Homem-Christo and Thomas Bangalter, better known as the enigmatic French dance duo Daft Punk. Alterian was instrumental in the design of the helmets worn by the band for their public appearances. Gardner and Bangalter bonded over a shared love for the 1950s sci-fi classic The Day the Earth Stood Still, and the  helmets were influenced by the Gort, that movie's alien robot.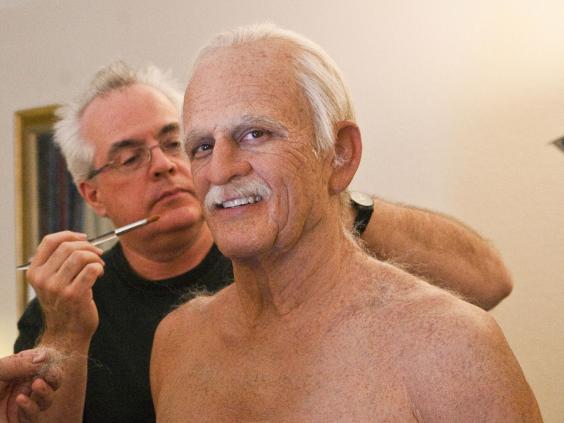 Bart Mixon works on Johnny Knoxville's make-up (Sean Cliver)
Alterian recently completed work on the comedy sequel Dumb and Dumber To, though the firm's relationship with gross-out auteurs the Farrelly Brothers stretches back to There's Something About Mary in 1998. "I had little kids at the time and I was taking phone-calls at home that involved asking people things like, 'The sperm on Ben Stiller's ear: is it clear or white? How long is it? Is it chunky? The boobs: do you want her nipples out or down? The balls in the zipper: do you want veins?' These are not conversations you want your kids to hear!"
Today, the SFX industry is under threat from the rise of its rival, VFX, and Gardner explains that where Alterian might once have made creature suits for actors, film-makers now just cover their actors in coloured dots and add the creatures as post-production CGI. Though the company specialises in overweight and old-age make-up such as Zisman's, even that business is being usurped. "There are films being shot as we speak, with younger actors playing older, and they're experimenting with dots and digital make-up  instead of physical."
For the real-life survival drama 127 Hours, Alterian made the fake arm that James Franco sawed off using a blunt penknife. The prosthetic was so anatomically convincing that Gardner has started a side business creating life-like babies and combat wounds to help train emergency room doctors and army medics.
And yet, he says, manufacturing believable make-up is only half the battle. "Half the success of make-up is the person wearing it. With James Franco, the arm was great, but if he hadn't made it real, you wouldn't have bought it. We can make Johnny Knoxville look 80-something, but if he doesn't own it and sell you on it, you're not going to buy it. It's a collaboration."